Much of the announcement was around increased performance and longer battery life when running Microsoft office and videoconferencing software, but there was also significant emphasis on cybersecurity provisions.
"We saw new threats emerge as cybercrimes increased during the Covid-19 pandemic," according to the company. "With security threats compounding, AMD is working with Microsoft and our OEM partners to deliver increasingly protected solutions. Our team created AMD Pro technologies to deliver a set of features focused on security, wireless manageability and system stability."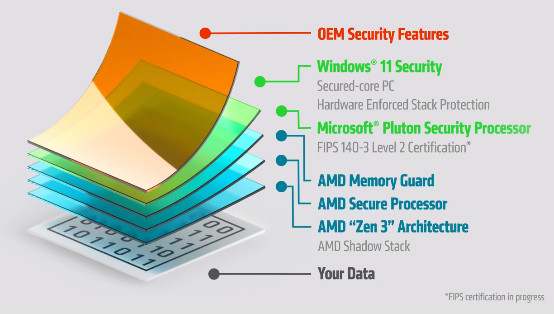 Available on every Ryzen Pro, according to AMD, AMD Pro security technologies include the integration of a Microsoft Pluton Security Processor for chip-to-cloud security with the Windows 11 operating system.
A "Microsoft Secured-core PC helps enable a secure boot, can protect a device from firmware vulnerabilities, helps shield the operating system from attacks, and helps prevent unauthorised access to devices and data with access controls and authentication systems," said AMD. "Industry partnerships support multi-layered security features at the silicon, operating system and platform levels."
Other security features included are: 'Shadow Stack' hardware protection against control-flow attacks, its own secure processor, and 'Memory Guard' real-time system memory encryption against physical attacks on lost or stolen laptops.
Expect to see the processors amongst certain Lenovo ThinkPads and HP EliteBooks, as well as in Chromebooks and desktops.