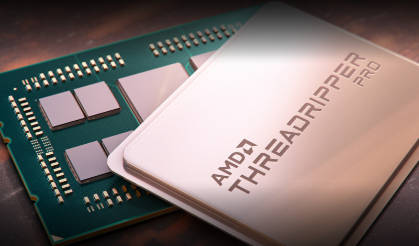 All within the Ryzen Threadripper PRO 5000 WX series. there are five devices, from the top-end PRO 5995WX down to the 12 cores and 24 thread PRO 5945WX (see table).
"Enterprise security features, manageability and scalability, higher frequencies and an enhanced L3 cache architecture," is promise by the company.
128 PCIe 4.0 lanes are supported for graphics and storage expansion.
For professionally managed IT environments, the following AMD technologies are implemented: Memory Guard to encrypt memory to prevent physical attacks on data, Secure Processor – an on-chip security processor intended to protect data and validate code before it is executed, and Shadow Stack to prevent memory modification for instructions.
Ryzen
Threadripper
Cores/
threads
Boost/base
freq (GHz)
Total
cache
Heat
(W)
PCIe 4.0
lanes
Memory
support*
PRO 5995WX
64/128
4.5/2.7
288Mbyte
280
128
2Tbyte
PRO 5975WX
32/64
4.5/3.6
144Mbyte
280
128
2Tbyte
PRO 5965WX
24/48
4.5/3.8
140Mbyte
280
128
2Tbyte
PRO 5955WX
16/32
4.5/4.0
72Mbyte
280
128
2Tbyte
PRO 5945WX
12/24
4.5/4.1
70Mbyte
280
128
2Tbyte
*memory types: ECC UDIMM, RDIMM, LRDIMM
Applications are expected rendering and editing 8K content, executing complex simulations and compiling code.
Lenovo has extended its ThinkStation P620 workstation range to include all five processor options.