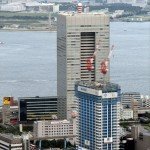 Effissimo Capital Management which has been a ling-time activist shareholder in Toshiba says it will sell its 9.9% shareholding in Toshiba to Bain if Bain makes a bid.
Effissimo has agreed with Bain not to use its stake to support a bid for Toshiba by anyone else.
Recently Toshiba shareholders voted down a proposal supported by Effissimo to force Toshiba to consider options for selling the company.
In order to get round a possible intervention from the Japanese government blocking the sale on the grounds of Toshiba's involvement in key technologies of national importance like nuclear power generation, Bain is seeking to involve other Japanese companies and investment funds in the bid.
Bain led the buyout of Toshiba's memory unit, now called Kioxia, but Toshiba still holds a 40% stake in Kioxia.
Toshiba is valued at about $16.4 billion.