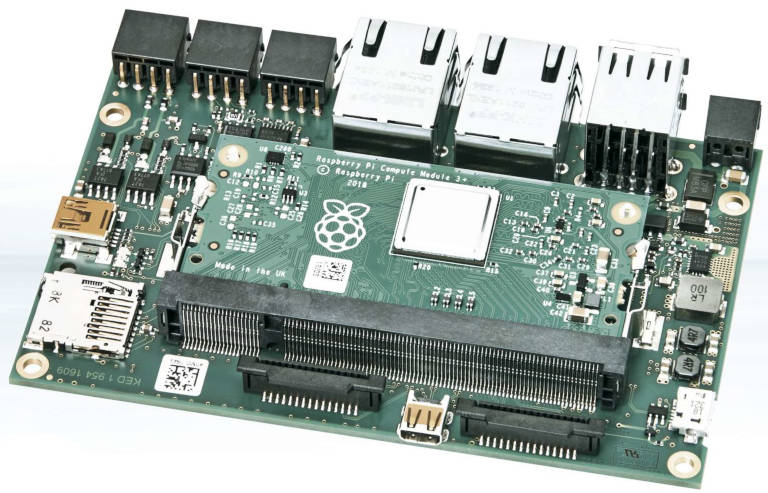 "The integrated development environment Codesys for programmable logic controllers according to the IEC 61131-3 standards is hardware-independent software for application development in industrial automation," according to Kontron. "Thanks to its open interfaces and security features, Codesys has distinguished itself as an industry 4.0 platform and facilitates data exchange between IIoT networks."
Prior to this, Codesys has been available for Kontron's PiXtend – a similar product that takes a standard Pi rather than a Compute Module.
Of this, the company said: Codesys V3 lets you memory-program controls. An integrated web visualisation tool is available for displaying your control elements, diagrams and graphics on your smartphone, tablet or PC."
Pi-Tron CM3+ includes a 24V power supply (3,4 to 9,6W plus peripherals) and can be cased in a DIN rail mount enclosure. Operation is over 0 to +55°C
Interfaces include 2x 10/100Mbit/s Ethernet, 2x 2.0 USB host, 2x UART, 2x I2C, 2x SPI, 28x GPIO, 2x PWM, 1x SDIO (4bit), 4x DIO (24V 800mA), 1x RS232, 1x RS485 and 1x CAN 2.0.
For displays there is 1x 2-lane DSI (up to 1Gbit/s/lane) (DSI 1) and 1x micro-HDMI 1.3a 1,080p at 30frame/s, then 1x 2-lane CSI for cameras.
The hardware product page is here.