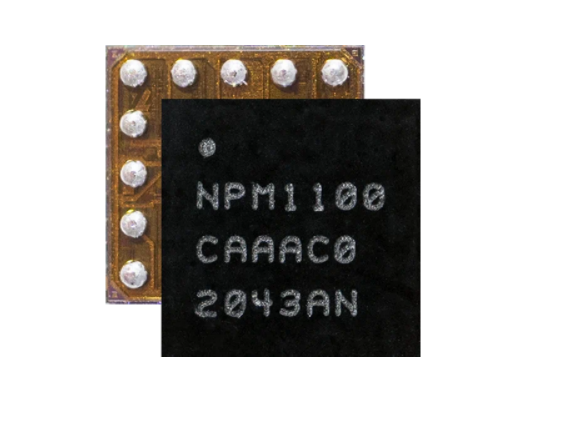 The nPM1100 can be used as a generic pmic for applications using rechargeable Li-ion/Li-Po batteries. It requires only 23mm² on a pcb and does not need configuration software as all settings are pin configurable.
The distributor offers the nPM1100-CAAA, dedicated power management IC with an efficient dual-mode configurable buck regulator and integrated battery charger. It is designed to complement Nordic's socs and its low quiescent currents contribute to stable operation while maximising battery life, claims the company. It includes over-voltage protection, low current ship mode and -40°C to +85°C operating temperature range.
There is also the nPM1100 evaluation kit, optimised for the pmic. Like the pmic it does not need software and has electrical connectors and physical interfaces for operation. It features switches for all selectable settings, as well as buttons to enter and exit ship mode and connectors for batteries, USB and headers for all pins on the pmic. There are indicator leds for charge and error indication. The kit provides functional testing without the need to create custom hardware. It can also be used with the company's other development kits, such as the nRF5340-DK or to test the pmic's functionality with non-Nordic products.
Commenting on the addition to the Nordic offering, Lee Turner, Global Head of Semiconductors and Single Board Computing at Farnell said: "The new-to-market nPM1100 is an ideal solution to help our customers reduce energy consumption in their designs. The ability to charge small batteries and extend battery life while providing efficient power management within small, space constrained applications, such as wearables and connected medical devices, is now of critical importance."
The pmic and evaluation kit are available to order on fast delivery. Farnell offers customers free access to online resources, datasheets, application notes, videos, webinars and 24/5 technical support.